A booming city in the heart of the Algarve
Vilamoura on the Algarve coast of Portugal is renewed and growing, focusing on tradition and contemporaneity.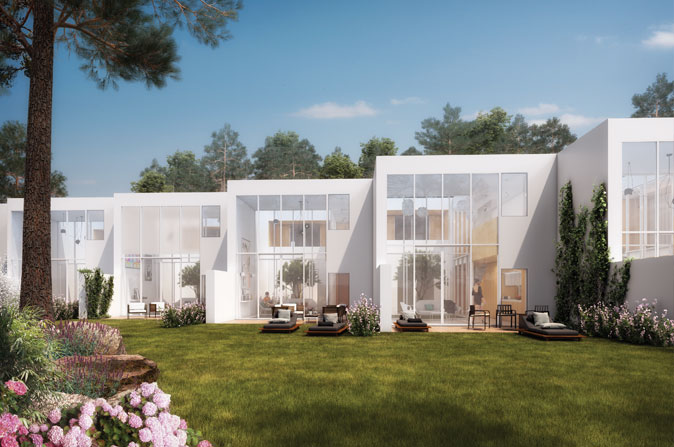 Vilamoura is notable in the history of seaside tourism in southern Portugal. Just one mention of the name Vilamoura to a Portuguese national will inevitably bring back thoughts of their childhood, days of laziness, strolls by the sea, boats moored in the harbour and holiday homes within easy reach of sandy beaches.
Today the magic of the Algarve attracts an ever-larger audience, and real estate investment is booming. Faro International Airport has doubled its capacity and received 8.7 million passengers in 2017 and welcomes flights from ten French cities. Vilamoura is 20 minutes from the airport and is preparing for one of the most ambitious real estate projects in Portugal, as related to scale, ambition, and adaptation to the present times.
Building on the assets that initially made Vilamoura a success, the real estate projects are now more natural, ecological and based on sustainable design principles. For the time being, two new neighbourhoods are being developed, with both projects entrusted to renowned international architects.
Key Facts: Vilamoura
825 Berth Marina
25 kms of Cycle Paths
5 Golf Courses
2 Private Health Clinics
1.5 kms of Golden Sand
1 International School
Central Vilamoura
Only a three-minutes walk from the most famous and largest marina in Portugal – Central Vilamoura will provide 80 residences, designed by the Parisian agency Silvio Petraccone & Michel Vodar. Central Vilamoura offers easy access to the 1.5 kilometres of Vilamoura's golden sand, golf courses, tennis courts and the many services in the destination.
Central Vilamoura will be a gated community, with two swimming pools and gardens created around century-old pine trees. The villas are characterised by a high level of exclusivity, ambience and sophistication, while interior patios and high-end finishing's will make people feel at home.
Uptown Vilamoura
A little further to the north and close to the national road links, we find Uptown, a project entrusted to the French architect Jacques Ferrier. The location of Uptown was chosen for its proximity to the international renowned equestrian centre, golf courses and the international school for 600 students of all ages.
Uptown will be a village in the middle of nature that offers a peaceful residential environment inspired by the traditional villages of the Algarve, while also allowing easy access to the centre of Vilamoura. Created around interior gardens, the dwellings combine intimacy and community. Each parcel is a closed condominium of around thirty homes, organised in a ring around a large interior landscaped garden. Tree-lined pedestrian crosswalks provide easy access to shared services, including a private clubhouse with a swimming pool, tennis courts and a shopping area.
The city of the future
The outlined projects will represent the beginning of Lakes Vilamoura, a project of national interest, for its size, environmental integration and new approach to tourism. The planning approvals for Lakes are expected in early 2020.
Lakes will be centred around salt lakes and set alongside 200 hectares of protected environmental park. The residential hotel, and commercial offer will be deployed on the banks of the lakes and will see the creation of two newly formed islands.
Focused on environmental sustainability and intelligent mobility, Vilamoura Lakes will magnify the existing offer of Vilamoura.